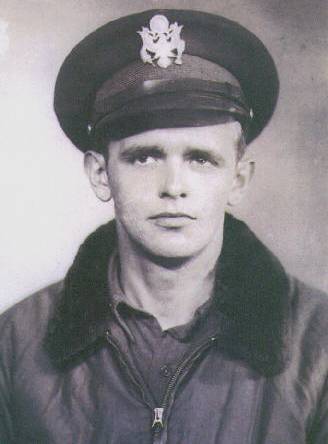 Wesley Raymond Shooks was born on 18 March 1921 to Anthony and Tillie (Postma) Shooks. He enlisted in the US Army on 31 August 1942 at the age of 21. Prior to his enlistment, he had worked in his father's grocery store in Ellsworth, Michigan, for a couple of years after having attended the University of Grand Rapids (Davenport University). His experience in the store and the year of accounting at Davenport served him well in the service. It positioned Wes to become a Supply Officer in the Quartermaster Corps. Quartermasters did not spend much time near the front lines. During a bombing raid alert in France, Wes cut his hand while diving under the chicken wire set up to catch falling debris. This was the closest he came to being wounded in action in his twenty-two months in Europe from October 1943 until August 1945. His military records indicate that he shipped out with the 740th Air Materiel Squadron on 08 October and arrived two weeks later in England. The battle campaigns listed on his military records include Normandy, Northern France, Rhineland and Central Europe for which he was awarded four bronze battle stars. Wes also received the European-African-Middle Eastern Theatre Ribbon and three overseas bars. He attained the rank of First Lieutenant and was discharged on 28 December 1945 from Camp Grant, Illinois.
Family photos of Wes in the service indicate that he was at Charmy Downs, Bath, England. Another was annotated with 'Dijon, France, Oct.-Nov. 1944.' He was stationed in France for the majority of his time overseas. Wes learned a bit of French which he sometimes repeated to entertain his children. Less than six weeks after enlisting, on 11 October 1942, Wes married Ruby Newland in Detroit while he was on a weekend pass. Wes was stationed at Stout Field in Indiana at the time. Ruby joined Wes at Stout Field in the spring of 1943 because he had been told that he would be there for a year or more. Two days after she arrived, he was informed that he would be going overseas and was transferred to Camp Lee, Virginia to attend the Quartermaster Corps Officer Candidate School. Ruby returned to Detroit to live with her sister. She gave birth to their first child, Wesley Jr., in July 1943. Nine weeks later, Wes was shipped overseas.
Although Wes was never called upon to use his rifle in the conflict, he was an excellent marksman. A few years after his discharge, Wes participated in a "Turkey Shoot". The target was a bull's eye on the chest of a wooden deer that was on a moving platform nearly 75 yards away. His first two shots were dead center on the bull's eye. In fact, after the first shot, the observers thought that he had missed the target because it was so dead center in the black area that it was not obvious. It wasn't until the second shot enlarged the hole slightly off center that they found the first shot.
Upon leaving the service Wes and Ruby lived in Detroit and Wes worked in a bank. After their second child, Carol, was born, they moved to Ellsworth where Rick, Doug and Dave completed the family. Wes and his older brother, Tony, owned and operated the family grocery and Wes remained in the business until his death in 1996 at the age of 75. Wes was also a part time used car dealer. He took over a used car business license initially held by his brother, Don Shooks, and retained it well into the 1990s. It was the oldest active used car license in the State of Michigan at that time.