Shooks Men in the Military - Vernon Shooks's Story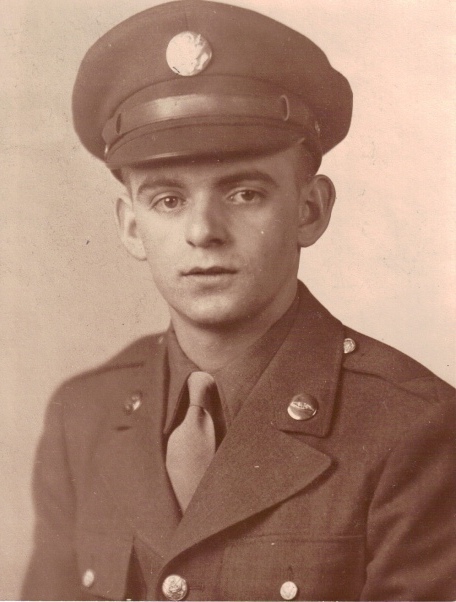 Vernon Russell Shooks was the youngest son of Tony and Tillie Shooks and the fifth brother to be drafted into the armed services during World War II. He entered the army on 3 November 1944, reporting to Fort Custer, Michigan, for processing. Upon completion of his processing at Fort Custer, Vernon was sent to Fort Knox, Kentucky, for basic training. He was then assigned as an Office Manager to Captain Hayes at the unit headquarters.
Even though the war was ending in Europe, Vernon was shipped overseas. He arrived in Scotland, took the train to the English border and then embarked across the English Channel to the coast of France. In France, he continued to work for Captain Hayes processing soldiers who were returning to the United States. One day, Vernon was called to the Captain's office, and in walked his brothers, Wesley and Donald! Wes was a Captain in the Fifth Air Force serving as a supply officer in the Quartermaster Corp. Don was an infantryman serving in an artillery battery as a forward spotter.
Captain Hayes gave Vernon a week's leave and the three brothers went off to Paris for some rest and relaxation (R&R). Because of Wes's rank as a Captain, Don, Wes and Vernon were able to stay in the Officers' Quarters. They went to the Follies Bergere, a French nightclub, and saw Marlene Dietrich and her show girls. It was a good performance. On another day they went to the Eiffel Tower. The view from the tower was beautiful. You could look in every direction over the city. After the week was over, the brothers went back to their respective assignments.
During the time Vernon worked in the processing center, he attained the rank of Staff Sergeant. Eventually, he was shipped back to the USA and finally arrived at Fort Sheridan in the northern section of Chicago. Vernon was discharged from the army at Fort Sheridan and given a train ticket for travel to his home in Ellsworth, Michigan. There he continued doing what he had done before he was drafted, which was working at his dad's grocery store.