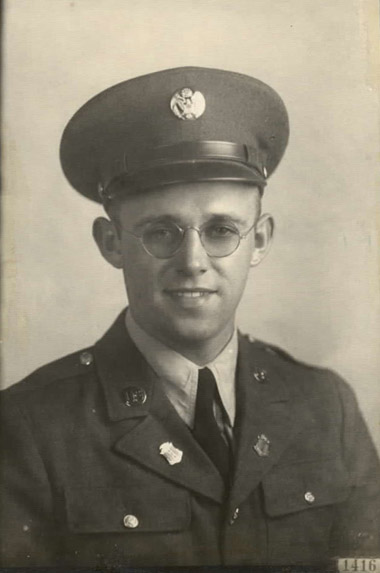 Anthony M. (Tony) Shooks, the oldest of the five sons of Tony and Tillie Shooks, was born on March 29, 1919, at the Sjoeks farm in Central Lake Township, Antrim County, Michigan. Tony graduated from Ellsworth High School in 1936 during the Great Depression. He wanted an education so he could teach and coach athletics. Scraping some funds together, Tony entered West State Teacher's College which is now Western Michigan University. To stay in school, he had to work and was employed by the NYA, a government program to help students in college. The next year the program was discontinued and Tony was not able to continue his studies. When he came home, his mother cried because he was so thin.
Tony went to work for the East Jordan Meat Company and learned the meat cutting business. The Shooks Market in Ellsworth always bought their meat from them, and Tony would bring the orders home at the end of the day.
In 1941, the government instituted a military draft. Hitler had overrun most of Europe and had designs on England. Our nation was very isolationist-minded in light of the events of World War I. President Roosevelt felt we were not well protected as a nation having a very small Army and Navy. Tony was called up in the second draft call and entered the Army on May 8, 1941, approximately eight months before Pearl Harbor. He was sent to Camp Beauregard, Louisiana for basic training. Tony said that he trained with wooden machine gun mockups and other substitutes.
When Tony came home on furlough after basic training, his dad wanted a family picture of all the children. So, the five remaining sisters came home. (The sixth, Jeanette, passed away in 1929.)
The family photograph
(click link to view) shows Tony in his military uniform.
Tony's unit, the 126th Infantry Regiment at Camp Beauregard, consisted of many draftees and National Guard members from Western Michigan. Tony's military record shows that he was trained as a heavy machine gunner, a clerk typist and a stenographer. When Pearl Harbor was bombed, part of the 126th was sent to the Pacific for a campaign in the New Guinea jungles. For whatever reason, Tony did not go with them. He left the United States on February 19, 1942, with the First American Expeditionary Force and landed in Ireland.
At some point, Tony had been given leave and he traveled to England and Scotland. During this time, he met his wife to be, Margaret Munro, in Edinburgh, Scotland. They were married before Tony was sent to southern England for the planned invasion of Europe.
The invasion departure area was Portsmouth, England, where General Dwight D. Eisenhower's headquarters were located and where the invasion was planned. Tony was in the second wave of the invasion on D-day. He was with the Headquarter Company of the 1121st Engineers' Combat group. It is not known what he did in the invasion, but the miracle is, he survived. Given the defenses the Germans had in Normandy, it must have been a day that he would never forget. The Americans had to cross beaches a quarter of a mile deep to get cover.
Tony's unit went to northern France from Normandy. He crossed into Belgium on September 8, 1944, and entered the German Rhineland on September 14. He was in the Ardennes-Alsace and Central Europe area. One has to think Tony was in the Battle of the Bulge in this area as the next location reported for him is Naarschan, Czechoslovakia near Pilsen in the spring of 1945. On May 8, 1945, the Germans signed the surrender terms at Reims, France.
Tony had acquired enough service time (3 years and 4.5 months in Europe and 11.5 months in the US) for discharge. He left Europe the 19th of June, 1945 sailing for the US. Tony arrived the 25th of June at Camp Kilmer, New Jersey. He was separated from the service on September 2, 1945, at Fort Sheridan, Illinois.
Tony's decorations and citations on his discharge papers show a Good Conduct Medal, an America Defense Service Ribbon, a European-African-Middle Eastern Theatre ribbon with three bronze battle stars, a Bronze Service Arrowhead, Six Overseas Service bars and one Service Stripe. He suffered no wounds.
Tony and Margaret, who are both deceased, made their home in Ellsworth, Michigan. They are survived by their four daughters, Janice, Judy, Lisa and Pamela.
Thanks to P. John. Shooks, Tony's brother, and Tony's daughter, Pamela, who contributed to this story.