Robert John Shooks was the son of John Peter (Jack) and Lillian Mae Shooks. John was the son of Pieter Jans and Anna Lavina Swart Shooks. Jack and Lillian also had a son, Carl Louis, who passed away on September 3, 1999 at the Mecosta County (Michigan) General Hospital.
Robert John Shooks, Sr. was born on May 13, 1927 and died on January 29, 1974. He married Jennie who passed away at the age of 57 and whose address was 11915 Roxbury, Camp Lake near Sparta, Michigan, at the time of her death.
The following photograph of Robert's military memorial plaque was taken June 13, 2002 at the Algoma Township Cemetery east of Sparta, Michigan.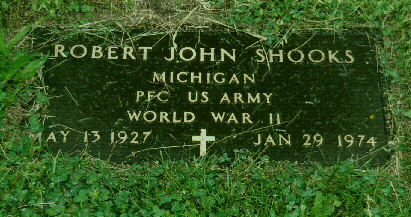 The above information was submitted by Janet Shooks Dean, granddaughter of Sylvester (Vet) Shooks who was the brother of Pieter Jans. Pieter and Vet were the children of Jans Pieter and Wytske Roelofs Hoogland Sjoeks.