Shooks At Your Door
(grocery service)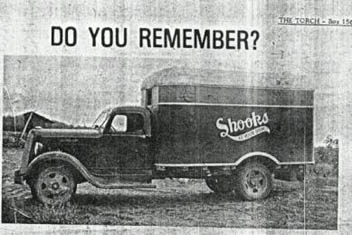 In 1930, Anthony (Tony) Shooks sold the family farm and bought a building and grocery store business in Ellsworth. The truck shown here is a 1936 Dodge which Tony purchased new with borrowed money. The large box on the truck was built by Albert Kuiper who was married to Tony's daughter, Winifred. Tony decided he could get a little extra business by delivering groceries to the residents in the country-side.

The salesman on the truck was Julius Essenberg. (He married Margaret Shooks, daughter of Vet and Katherine Shooks.) Don Shooks would help his father, Tony, and Julius load up the truck every morning before school so the driver could be on the road by eight promptly! They also had to load the ice box which was inside the truck box. The interior of the truck box had a scale hanging from the ceiling and shelves on both sides. The top of the ice box served as a make-shift desk.

Don Shooks relates that he rode with the driver many Saturdays in all different directions from Ellsworth. His father had devised six separate routes to follow so the truck business would not compete with his own store in town. As a young boy, Don thought it was a big thrill to ride along and carry the groceries to the customer's house.

During the depression (1929-1937) it was very difficult for the independent merchant to compete with the chain stores like A&P and Kroger. Tony decided the only way the independents could compete was to form a cooperative so they could purchase merchandise in large quantities. The very first meeting took place in Tony Shooks' living room in the big house in Ellsworth. Tony invited all the independent merchants north of Cadillac. He then went to Grand Rapids and invited all merchants who would be interested and held that meeting at the Rowe Hotel. This was the beginning of the A/G Stores (Affiliated Grocers). Later the name was changed to Spartan Stores which is still used today.

"That was not too bad an accomplishment for a little man with a third grade education! How about that!"

The major portion of the above story was told to Wes Shooks Jr. by Don Shooks in a letter dated May 2, 1990.